This hack can be used for any blog or web site although the instructions below are specific to Blogger blogs; requires specific names for uploaded images.
Display Random Images within Your Web Page
Skill Level
Edit
You must be comfortable with editing your Blogger template.
Description
Edit
Allows you to display random images within a web page.
(See complete instructions at the homepage.)
Create a set of images following specific naming conventions, and upload them to an accessible server.
Copy, customize and place script in your Blogger template, per the instructions.
Re-publish your blog.
Sites Using This Hack
Edit
Edit this area and add your own link if you are using this hack.
Screenshot of Hack in Use
Edit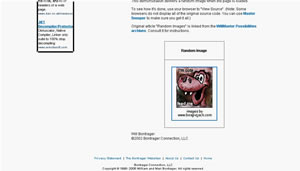 Ad blocker interference detected!
Wikia is a free-to-use site that makes money from advertising. We have a modified experience for viewers using ad blockers

Wikia is not accessible if you've made further modifications. Remove the custom ad blocker rule(s) and the page will load as expected.